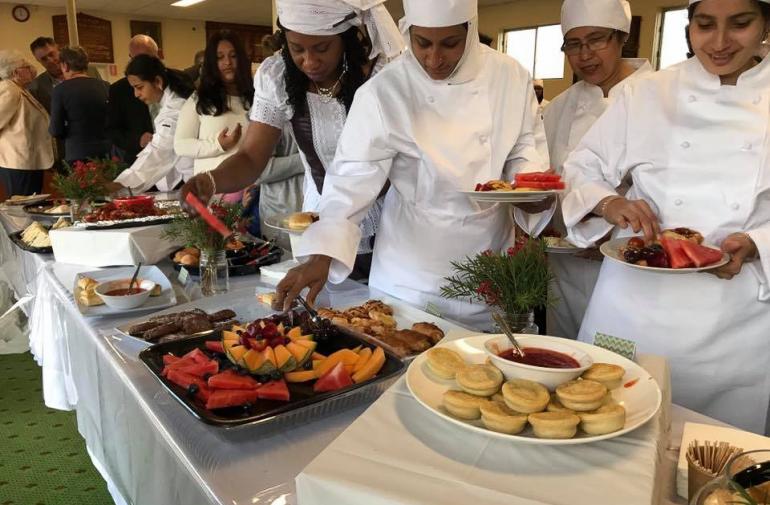 Metro Assist launches a brand new project!
September saw the launch of Stage One of an exciting new community initiative.
This bold new venture is a collaboration between Metro Assist and the Pratten Park Community Sports and Bowling Club. The Club wanted to strengthen its connections with the community, and also be part of a project that adds value to the work Metro Assist do in support of refugees and newly-arrived migrants.
The project kicked off with a call out for participants interested in gaining skills in the hospitality industry. The ongoing courses gives trainees the skills and knowledge to gain employment in roles such as Food and Beverage attendant, Barista, Function attendant, Guest service agent, or Restaurant server, as well as the opportunity for further study in one of our Hospitality pathway programs. While undertaking vocational training, trainees also improve their workplace English; gain much needed social support, as well as work experience. TAFE NSW were integral in providing training to our participants.
Participants not only gain qualifications in Hospitality Employment Skills, but also receive hands on, practical work experience at Pratten Park Community Sports and Bowling Club. The eventual outcome of the initiative is not only a wonderful catering and hospitality enterprise, but also an important employment pathway.  Employment is crucial for a migrant's settlement, as it is a pathway to housing, supporting oneself or a family, and is therefore, very empowering.
Stage Two will see the development of a commercial operating model in which we start with community events and functions and gradually build up the Club's catering capacity with a bistro-café service on weekends. Metro Assist along with Pratten Park Community Sports and Bowling Club are grateful for funding received from the Inner West Council, the Stronger Communities Programme, the NSW Community Building Partnership Grants, and the Club Grant through Wests Ashfield, as well support from our federal and state members - Anthony Albanese and Jo Haylen.
Stay tuned for more developments on the Pratten Park Community Sports and Bowling Club Initiative. We look forward to seeing you on the green, enjoying a meal or participating in one of a number of community engagement activities we have planned for this great new venue!