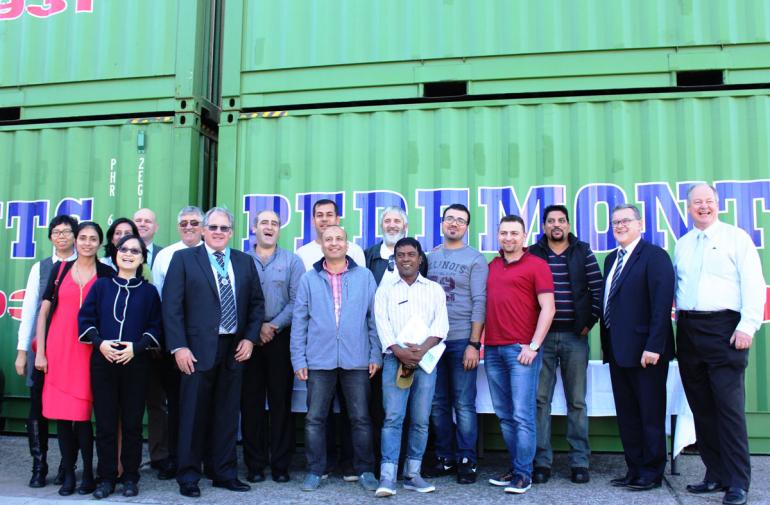 SkillME Showcase
The SkillME project, supported by the NSW Government and delivered by Metro Assist, helps migrants with skills and qualifications to find suitable employment.
SkillME's newest program, combining literacy, numeracy, social engagement and vocational training has had its first lot of graduations, presented by Metro Assist CEO Lou Bacchiella and Minister for Multiculturalism John Ajaka.
Representatives from all involved parties gathered at the Pedemonts / Australian Furniture Removal Association warehouse and training site in Chipping Norton on a sunny afternoon on 19 May. Guests were given a tour of the site where students learnt practical knowledge and could one day work. A journalist from the local paper conducted a short interview with the Minister for Multiculturalism John Ajaka and some of the SkillME students and a photographer snapped some photos before we headed inside for the graduation ceremony.
Metro Assist CEO Mr. Lou Bacchiella acted at Master of Ceremonies, speaking to a packed room of students, supporters and staff. After acknowledgement of country and thanking the many stakeholders, Mr Bacchiella congratulated the 9 students for their effort in successfully completing their Certificate II in Furniture Removal and English language units.
Mr John Ajaka was the next to speak and also emphasised the courage and persistence of the students, telling a story of his own parents migrating to this country with few prospects or help at hand.
He empathised with the students who wanted to help their families have a better life in Australia, many of whom are continuing with Forklift and Warehousing training. 
Congratulations to all our clients who now have a real chance at finding work, mastering English and making friends in Australia. Metro Assist thanks all our partners in delivering this program - AFRA, MTC, Pedemonts, ATS and the NSW Government. And we especially thank the SkillME Coordinator here at Metro Assist and all our caseworkers who worked tirelessly to help the students complete their training. 

SkillME's next big project is in the works, so subscribe to our newsletter to learn more.
SkillME is a demonstration project operating in the Inner West, Canterbury, Bankstown and Hurstville areas and is funded by Multicultural NSW. Inquiries should be directed to Ms April Pan tel: 02 9789 3744 or skillmeproject@metroassist.org.au