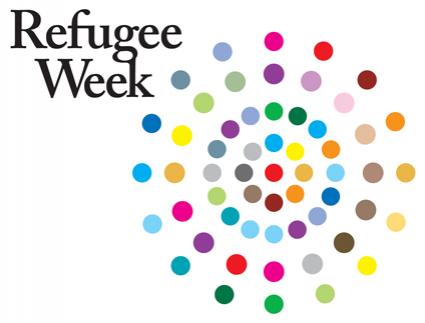 Refugee Week Events 2018
Refugee Week Events
Metro Assist was honoured to have hosted several Refugee Week celebrations, panels and discussions. 

Refugee Week Awards held at Bankstown Senior Citizens Centre 
Our Refugee Week Awards celebrated exceptional commitment by individuals from refugee and asylum seeker backgrounds in the areas of Community, Youth Leadership & Mentoring, Volunteering & Development, and Early Intervention on Crime and Domestic Violence against Women. A Ramadan Dinner/Iftar was held at Bankstown Senior Citizens' Centre, and was catered by our Pratto Project Hospitality Students. The event was first held in 2014 and continues to recognise the contribution of community members from the Inner West and Canterbury Bankstown areas. The aim of the award is to enhance social participation and inclusion. Representatives from local organisations were on hand to present the awards, including Heather Searle from Navitas, IEC head teacher Dimitrios Kametopoulos, Paul Power CEO Refugee Council, and Metro Assist CEO Lou Bacchiella.
Award recipient Mrs. Amal Dayoub, receiving an award for work in Community Volunteering.
Some of the community members who attended the event.
State Library Film Screening and Photography Exhibition
"Rohingya: Rights & Reality" was held at the State Library of NSW, and organized with the support of six different organisations including Metro Assist, Bangla Hub, State Library of NSW, Humanitarian and Development Research Initiative (HADRI) - Western Sydney University, as well as Lokoyog and Films 4 Peace Foundation from Bangladesh. The event highlighted the reality of the Rohingya ethnic minority of Myanmar/Burma. The first session of the event was a screening of the film The Dreaming Vendors by Ahmed Abid, which demonstrated how the illegal trafficking of Rohingya's from Bangladesh by boat through the sea route is an organised, common phenomenon, termed 'Dolphin visa'. The event also included an exhibition "Children of Naf River Valley" by photographer Abid Mallick and Salahuddin Ahmad.
The highly politicised, global and local situation of the Rohingya people was described by the guest speaker of the event Dr. Garry Stevens of Western Sydney University prior to the film screening. The post screening response, moderated by Mr. Lou Bacchiella, the CEO of Metro Assist, involved the audience and was highly interactive. The Q&A session was very engaging, participants included Ms. Maksuda Sultana of Films 4 Peace Foundation, Munir Hosain of Bangla Hub, Mohammad Jawat Kawbir - Rohingya Youth Representative, Dr. Garry Stevens and Film Maker Ahmed Abid.

Filmmaker Ahmed Abid and child representative Nushaba Rahman.
To me there were two important take away of the event, I should mention. First, it was the concluding theme raised by Mr. Lou Bacchiella about what we could do from Australia to improve the situation of Rohingya stateless people. And the second was the note of Child Representative Nushaba Rahman who mentioned that it is estimated that 60% of Rohingya arrived in Bangladesh are children. The increase in refugees is further aggravating the situation in the camps in Bangladesh. This population, especially the children, has full rights to life, food, education and shelter like all other people in this world, without distinction of sex, race, language, religion, political opinions, personal and social conditions.

Thanks to all organizers and audience who joined the event.

Ahmed Abid
Photography exhibition "Children of Naf River Valley" by Abid Mallick and Salahuddin Ahmad.


"Navigating the Changing Landscape #WithRefugees" Forum
The "Navigating the Changing Landscape #WithRefugees" hosted by the Canterbury Bankstown Multicultural Interagency, was a productive collaboration involving over 60 service providers including Refugee Council of Australia (RCOA), STARTTS, Multicultural Youth Affairs Network - MYAN NSW, NSW Refugee Health Service, Navitas English Bankstown, AMEP + SEE, Settlement Services International - SSI, Mums 4 Refugees, and local Aboriginal Elder, Uncle Harry. The informal forum was an opportunity for local workers and community members to discuss and better understand the challenges some people with refugee background and those seeking asylum are currently facing. It was a thought provoking and positive discussion which will help navigate the way forward working with refugees.
Representatives from over 60 community organisations were present on the day.


Refugee Week Speech - Ashfield Public School
Metro Assist was invited to Ashfield Public School as students were showcasing their Refugee Week project.
This year the students collectively worked on an art project based on the sculpture 'Field' by Antony Gormley. The original piece contains approximately 200,000 individuals terracotta figures. 
The students artwork contained around 515 clay figures which were painted in black and white.
The artwork project is called " Boundless Plains" from the line 'with boundless plains to share' from our national anthem. 
Students Ocean Armstrong, Natnisha Bonnice and Alif Siddiqui from stage 3 presented a powerful speech which highlights the concerns of Refugees within Australian society.
Ashfield Public School – Refugee Week Speech
Running, screaming, crying and shouting. These are the sounds of thousands of people fleeing from war, death and destruction, leaving behind everything they've known and loved. These people are called refugees. But what are refugees? Refugees are people fleeing conflict and persecution by extremists, as defined by the United Nations Human Rights Council.
Over 65 million people have been displaced from their home country. Some countries that refugees come from are; Iraq, Syria, Myanmar, Afghanistan, the Democratic Republic of the Congo, Bhutan, Somalia, Iran, Ethiopia and Eritrea. Countries that refugees flee to are; Australia, Greece, France, Germany, Lebanon, Jordan, Sweden, the United Kingdom and Italy.
Ashfield Public School has ten wellbeing choices that we practice and uphold. Two of the choices which really stand out to us are being inclusive and embracing diversity. Our school always welcomes students and families from different cultures, countries and walks of life, including refugees.
Similarly, our school motto is 'Every Child, Every Opportunity'. This shouldn't just apply to students at our school, it should apply to refugees. All refugees deserve the same opportunity as every other citizen in this country, in order to improve their own lives and Australia as a whole.
Refugees face a tough time adjusting in a new country, finding jobs, making new friends and going to new schools. That is why it's crucial to support organisations like Settlement Services International. The SSI is a community organisation that helps refugees achieve their full potential. They provide scholarships and help refugees and asylum seekers to overcome inequality.
John Marshar is one such example. He is a refugee from South Sudan. Marshar left because of the civil war happening in the country, and now uses his experience to help other young people through the 'Youth Collective'. John feels so grateful to have come to Australia and live his life here, with support from the Settlement Services International.