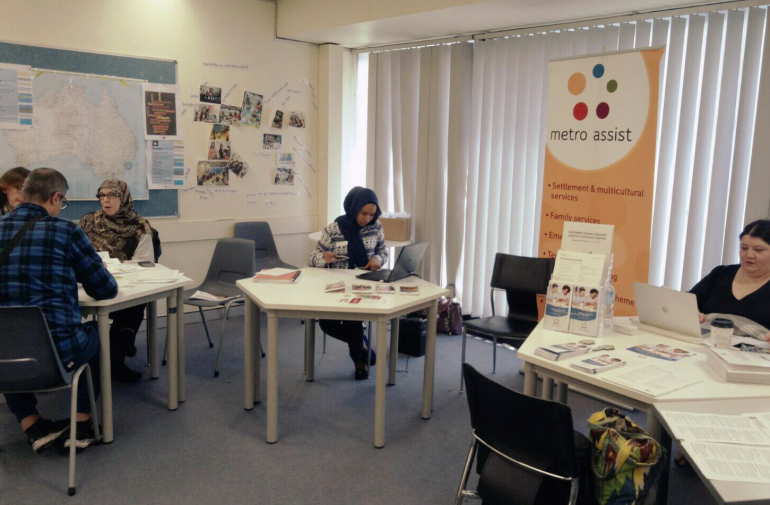 Bill Assessment Day
Metro Assist recently held a Bill Assist day working with Navitas Bankstown
EAPA can be so much more than just handing out vouchers!
Thirteen clients attended, and assistance was provided by the Settlent Team, Southern Sydney Tenants Advice and Advocacy Service, NILS and Inner Western Sydney Financial Counselling Service.  All clients were experiencing financial distress, primarily due to the high cost of rent and utilities. However we were able to assure clients that with assistance bills can be managed.
We noted that residents in the Wiley Park Lakemba area appear to be targeted by ClickEnergy.  Click Energy have been sending out door to door salesmen and signing residents to their energy contracts without providing interpreters.  We assisted one client who had been with another provider, and did not know that ClickEnergy had cancelled that contract.  The client was put back in touch with their energy retailer of choice. 
If you are visited by door to door salesmen please check out NSW Fair Trading website for information about your rights.
The tenant advocate assisted another client to have their water re-connected.  The landlord had stopped paying the water rates, which is a landlord's responsibility. There is another bill assist day coming up on 1st August 2018 at the Orion Centre in Campsie.  There will be EWON on the day plus a range of community services such as SSTAAS and the Inner Western Sydney Financial Counselling Service, and other services such as Riverwood Community Centre. 
Check out the information below. If you have a bill come in for a chat and lets find a solution.
The next bill assessment day is coming up on Wednesday 1st August 2018!
Bring your bills and talk to specialists about your energy and water bills, fines, financial problems, legal issues, seniors information and aged and disability care. Find out about helpful programs and take advantage of the free hearing tests - sign up to the appliance replacement program and much more - all in one place.
Venue
The Orion Centre 155 Beamish Street Campsie NSW 2194
Time & Date
Wednesday, 1 August 2018 9am - 3pm