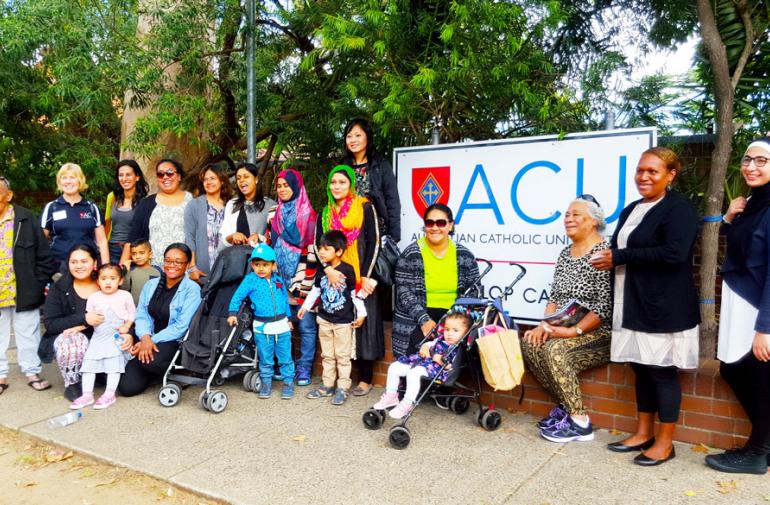 STAP Excursion for Parents and Kids
Almost 20 recently arrived migrant parents participated in an orientation excursion to the Australian Catholic University campus in leafy North Sydney as part of Metro Assist's Special Tutorial Assistance Program (STAP) in May. Parents and kids were transported from Punchbowl PS to North Sydney where they toured the campus grounds and learnt about the Australian education system. The Uni & You activity, provided in collaboration with ACU Equity Pathways, was the first session in Term 2's regular STAP sessions.
STAP operates in five schools in western Sydney including Hampden Park Public School, Punchbowl Public School, Bankstown Senior College and Ashfield Public School to assist children from Culturally and Linguistically Diverse (CALD) backgrounds who are struggling with homework, and simultaneously to inform parents about their own educational opportunities, health services, and schools.
Metro Assist has been running STAP for over seven years under Settlement Services. Maissa, one of the program's coordinators, says that the program has longevity because it is a win-win for tutors, kids and parents.
"The tutors for STAP are Education students from ACU and Western Sydney University. The tutors get to fulfil their student placement hours, and the kids and parents learn a lot." she says.
Many of the parents who come to the term-long STAP sessions speak very little English and don't have computers at home. They can use the school computers in the after-school STAP sessions, and Metro Assist staff are able to help translate the information sessions.
Find out more about our Settlement Services or subscribe to our newsletter to hear about upcoming events