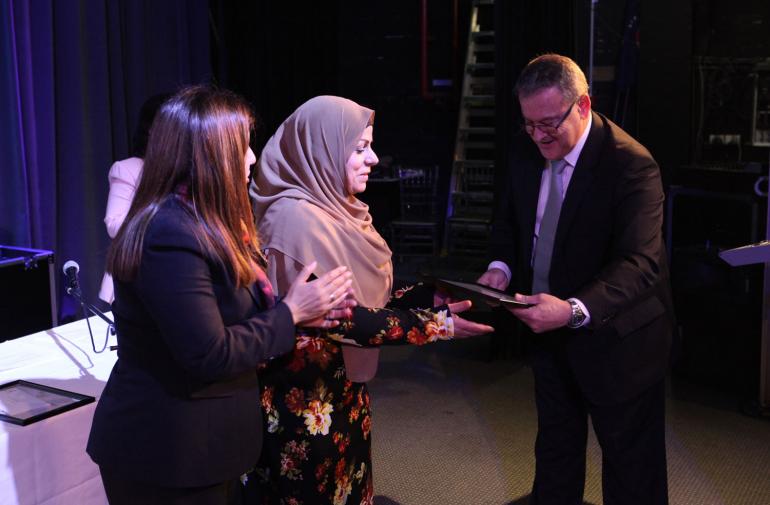 Refugee Week Awards and 30th Anniversary Iftar Dinner
Almost 200 clients, stakeholders, staff and VIPs converged on the Orion Centre Campsie for Metro Assist's 30th Anniversary and Refugee Week Awards event. The regal former theatre was filled with families of mostly refugee background who have come to Australia in the past few years and have been helped by Metro Assist's Settlement Services program. Refugee Week falls in the holy month of Ramadan, a special spiritual month for those who practice the Islamic faith, and every measure was taken to ensure the event respected the Ramadan tradition. Guests were greeted with dates in time to break fast at sunset, which was followed by a Iftar main course that was enjoyed by all.
Tony Burke MP gave a heartfelt speech welcoming all refugees
Aunty Esther Carrol gave a Welcome to Country speech while our talented multilingual case worker Boshra Masri performed Master of Ceremonies duties as well as translating all speeches into Arabic.
The honourable Tony Burke MP, member for the local area of Watson, gave a heartfelt speech welcoming all refugees and commending cultural and linguisitic differences as an integral quality of Australian culture. He elicited much applause while expounding the benefits of varied culture and language to the shaping of Australian history.
Hakan Harman of Multicultural NSW followed by making a short speech to applaud Metro Assist for their work and promised to continue to collaborate on programs such as SkillME.
The five awards were presented by Metro Assist's CEO Lou Bachiella with help from Sophie Cotsis MLC and Metro Assist board member Elena Berrocal-Capdevilla.
The winners were recognised for community development, leadership, mentoring, early intervention of violence against women and volunteering.
Once the program was completed guests danced to traditional music, with all agreeing it was very successful evening. Thank you to all clients and special guests who were present, and congratulations to all award winners.
If you had your picture taken at this event and would like a copy please contact marketing@metroassist.org.au