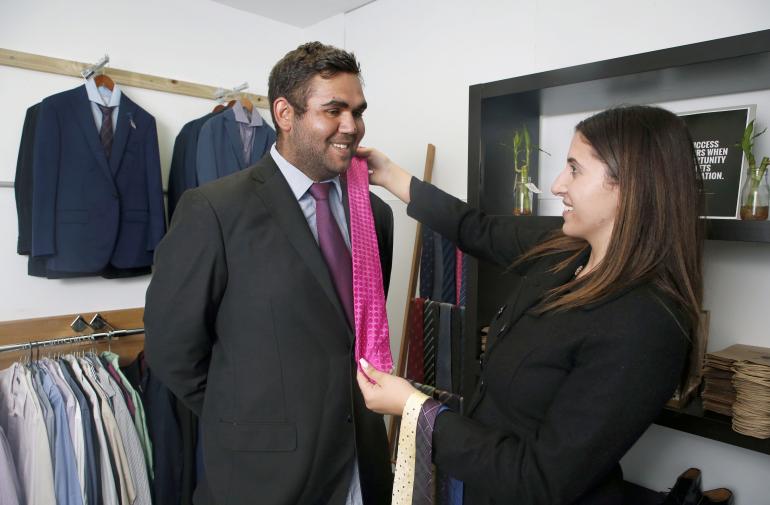 Dress for Work Volunteering and Training Program
Dress for Work: Volunteering & Training Program
Dress for Work is currently inviting applicants to apply for the Dress for Work Volunteers and Accredited Training program to assist in the day to day operations of its project.
Dress for Work assists over 1000 clients annually by providing free business attire and Job Readiness Training to enable clients to attend job interviews and thereby increasing their chances of securing employment.
This is an exciting opportunity to obtain practical insight and knowledge into the workings of a not- for-profit project, enabling volunteers to undertake a variety of tasks on a daily basis including working directly with clients, assisting in the delivery of employment training, organising and maintaining stock as well and administrative tasks.
While fitting clients is one aspect of the role, a background in fashion is by no means necessary. We are seeking individuals who are energetic, empathetic and more importantly, looking to make a real difference in the lives of the clients they work with.
Successful applicants will be eligible to undertake a free 1 Day course in Fundamentals of Customer Service, and are eligible to receive a Statement of Attainment for the BSBCUS403 Implement Customer Service Standards unit of Competency, customised resume and interview support and will be provided with a free Dress for Work Volunteer t-shirt.  
Program Outline: 
The Dress for Work Volunteering Training Program will include 1 Day Workshop in Fundamentals of Customer Service, 2 day practical training placement at the option of two Dress for Work sites (Bankstown or Westmead) and inclusion on the official Dress for Work volunteer register.
Training Date and Time: 
Fundamentals of Customer Service workshop -Thursday September 19 2019
9am – 4.30 pm (Free lunch and refreshments provided)
Location:  Canterbury Bankstown Business Advisory Centre Civic Tower, Ground floor/66-72 Rickard Rd, Bankstown NSW 2200
Practical Training Placement:  Flexible and dependent on Dress for Work Appointment Calendar at Dress for Work Bankstown and/or Dress for Work Westmead
As a Dress for Work volunteer you will have the opportunity to:
Assist in the fitting and measuring of clients with complex needs and from a diverse range of backgrounds

Attend and participate in  community expos, festivals , schools  to promote Dress for Work and Metro Assist services to clients and service providers throughout NSW
Assist in facilitating Job Readiness Training  group sessions to clients at schools, TAFE and correctional centres  throughout NSW
Book and schedule  client appointments as well as responding to  telephone and e-mail enquiries from clients, donors and service providers
 Undertake data entry using the organisation specific database
Undertake Social media and promotion including content creation for Dress for Work website and blog , Facebook page and Instagram
Organising  and sorting of donated stock
How to apply:
Please send your resume to dressforwork@metroassist.org.au  with subject "Dress for Work Volunteering Program 2019" in the subject line by 16 September 2019.
This training is delivered free of charge thanks to funding through Canterbury Bankstown ClubGRANTS scheme.