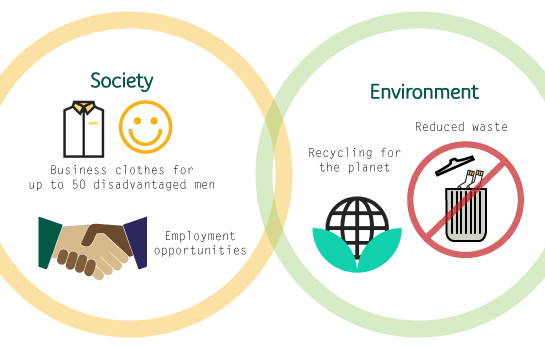 Clothes Recycling as a Not-for-Profit Business Model
With business suits from the likes of Yves Saint Laurent, Hugo Boss and Pierre Cardin you would be forgiven for thinking you were standing in a high end store in downtown Sydney instead of an office premises located in suburban Bankstown.
Dress for Work is a project run by Metro Assist designed to give men from marginalised and disadvantaged backgrounds business suits in order to attend job interviews and other important appointments. While Dress for Work is fundamentally premised on a social justice framework – equal economic participation for all – the project's reach is far greater than that in terms of sustainable fashion.
Members of the community donate suits and business shirts they no longer wear and the donated garments get restocked in Metro Assist's Dress for Work Bankstown 'Boutique' and given to men who cannot afford to purchase their own suits.
In an era of fast fashion, where millennial males dubbed "HENRY" (High Earners, Not Rich Yet) are purchasing significantly more clothes than generations before them, many of the donations come from men who are clearing out their closets, making room for the next fashion cycle. Most importantly, the clothes are still clean and wearable. 
The need for a direct clothing recycling model is increasingly important considering how much textile and clothing waste is generated each year in Australia. Specifically, charities receive 22 tonnes of clothing waste each year and of that only a staggering 10% of it is considered "re-sell" quality, the remainder ending up in landfill. 
But unlike most major clothing charities, Metro Assist's Dress for Work program does not sell its donated clothes or dispose the majority of its garments to landfill. Instead the organisation gives one hundred percent of its garments away free of charge, allowing the organisation to directly assist those who need it most. The benefit is two-fold.

Garments that would otherwise take fifty or more years to decompose in landfill are not only being recycled, but more importantly, ending up in the hands of the disadvantaged.
Corporations like the multimedia giant Adobe are playing their part by conducting donation drives in their suit-heavy workplaces, netting a significant amount of clothing to help facilitate the sustainable model of clothes recycling.  In one drive alone, Adobe donated 105 business shirts, 30 suits and 10 business jackets that might have otherwise ended up in landfill.
With our world so focused on presentation, Dress for Work co-opts the fast fashion cycle by giving new life to these often hastily discarded items. These suits, ties and shirts will now have an extended life, creating career opportunities for the men who seek help from Metro Assist.
Dress for Work is located at 62 Meredith Street Bankstown and is always looking for more quality business attire. Businesses interested in working with Dress for Work as corporate donors should contact the organisation on 8594 0300. Learn more at dressforwork.org.au