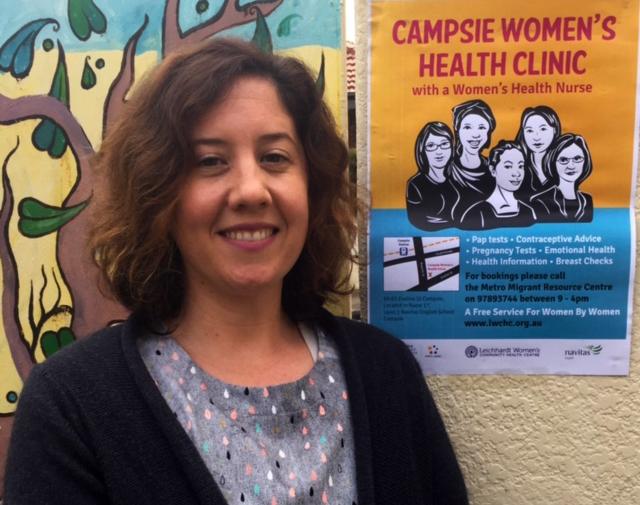 Campsie Women's Health Clinic
Metro Assist welcomes this guest post from women's health nurse Anna-Lucia McCusker.
Hello, my name is Anna-Lucia McCusker, the women's health nurse at Campsie Women's Health Clinic. The clinic is run in partnership with Metro Assist, Navitas English School and Leichhardt Women's Community Health Centre. Its purpose is to provide free preventative health services to any woman living in the Campsie area.
My speciality training is in Family Planning, Contraception, Sexual health, HIV and Viral Hepatitis. I also have training in urology and gynaecology nursing and I have a strong interest in improving the health of migrant women in Australia.
People often ask me: What is Women's Health?
My answer is it's whatever the woman who sees me would like it to be! Sometimes a woman will gather all she needs in one visit and sometimes it's more than one visit.
Each appointment is 45 minutes in length. Clients will often say to me that having enough time with a health professional to tell their story has made them feel so much better about their health and clearer about the next steps they will take to improve their health.

At your appointment you can expect that I will ask you lots of questions about your general health, your home life and medical history.  You can expect that I will talk about screening for breast cancer, cervical cancer and pelvic floor assessment. We will also talk about mental and emotional health as it is very common to experience poor mental and emotional health at different times in our life.
How do you see me?
The clinic is run every two weeks: Tuesdays fortnightly 9.45-3.30pm.
Phone Metro Assist on 9789 3744 to make an appointment. If asked to leave a message, simply say you wish to see the Women's Health Clinic, and leave your name and phone number.
You will need to bring your Medicare card to your appointment. Please arrive on time for your appointment, being late for your appointment may mean we won't have enough time together and sometimes it's better to reschedule.

I look forward to seeing you.