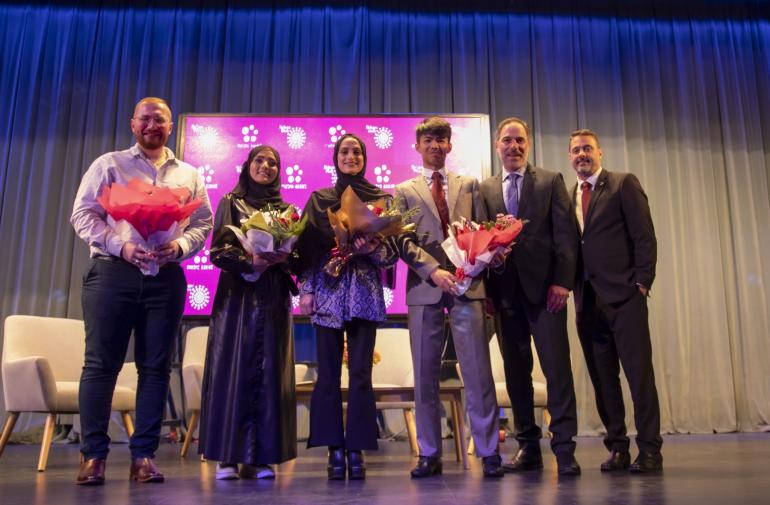 Healing Together | Refugee Week 2022
Metro Assist was delighted to return to in-person celebrations for the thirty-sixth annual Refugee Week, after several years of covid-related online initiatives. The events were well-attended by refugees, community leaders and those who work with refugees in the community services sector. In addition to highlighting the challenges and triumphs of the refugee community, this year's theme, "Healing", urged Australians to draw upon shared struggles and "hit the reset button on how we behave towards one another" (Refugee Council of Australia).   
At our Soccer Gala Day, we were joined by young people from refugee backgrounds at North Bankstown Soccer Club. Throughout the day, the group played soccer, shared a barbecue and enjoyed the music of a local DJ. After five fun matches played by three mixed-gender teams, the Green Team claimed glory as the ultimate winner! More importantly, the young attendees were able to enjoy themselves and bond over shared experiences, including their love of sport.  
Over 200 members of the community gathered to celebrate our Refugee Week Dinner in Campsie. Metro Assist staff, alongside refugee communities and local representatives and dignitaries, celebrated with an amazing line up of speakers and performers. Over the course of the night, attendees enjoyed performances by The Peacemakers Ensemble and Mario and Mark Al Kjo as well as addresses by Chin Tan, Race Discrimination Commissioner; refugee advocate and educator, George Najarian; and Jihad Dib MP, Member for Lakemba. The audience was riveted by a panel discussion featuring three young people of refugee backgrounds: Jamshid, School Captain of Chester Hill High School, and Farhat and Marwa, the subjects of the Addi Road documentary, Die or Die Trying. Guests were also treated to a fashion show featuring clients and friends of the Metro Assist program, Dress for Work, who modelled some of the business attire and tradewear the service provides, free of charge, to men who have experienced disadvantage.  
April Pan, Settlement Services Manager at Metro Assist, said the event drew emotion from every guest in the room.  
"It was an amazing night with beautiful entertainment, inspiring speeches and humbling stories from refugees," she said.  
"The cultural music performances from The Peacemaker Ensemble got our guests up on their feet, dancing spontaneously, while the stories of Farhat and Marwa, who fled the Taliban, drew people to tears."  
Metro Assist was thrilled to be joined by Jasmina Bajraktarevic-Hayward and Adama Kamara, the President and Deputy CEO, respectively, of the Refugee Council of Australia, which organises Refugee Week each year. Also present at the celebration were the Mayor of the City of Canterbury-Bankstown, Khal Asfour; Mayor of the Inner West, Darcy Byrne; Mayor of Strathfield, Matthew Blackmore; and the Member for Lakemba, Jihad Dib MP.  
As Refugee Week comes to a close for another year, Metro Assist is proud to be part of a strong community of refugee advocates, supporters and service providers. We thank all who attended and supported our 2022 celebrations.