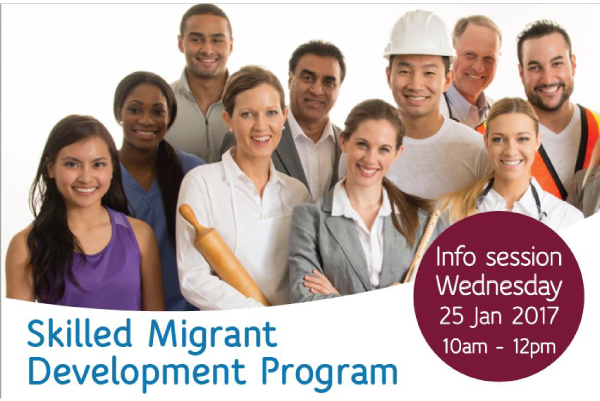 Skilled Migrant Development Program
Migrants with professional skills can find it most frustrating seeking a job in Australia. Overseas skills and experience are often not recognised by employers and the Australia job seeking environment is often very different from their former environment. The Skilled Migrant Development Program aims to equip newly arrived skilled migrants with knowledge of the Australian workplace and improve their job seeking skills. Metro Assist's recent six-week program in partnership with OTEN has seen 13 students complete their training in early December 2016 and moved onto the their 3-month unpaid internship in their skilled area, organised through SkillME in partnership with OTEN and Internship in Australia.
Now we seek interested applicants to come along to an information session about our next course. 
INFO SESSION
Wednesday 25 January 2017, 10am - 12pm
OTEN 51 Wentworth Rd, Strathfield 2135
You will learn about a fast track course to prepare qualified professionals to enter the Australian workforce:
• funded by the NSW Government through Smart and Skilled
• free for eligible participants
• 56 hours of face to face tuition provided (in 7 weeks)
Human resource specialists and employers will provide career advice through interactive workshops.
Course outline
• Developing a greater awareness of workplace culture and trends in the Australian labour market
• Developing a career portfolio, résumé and cover letter
• Strategies to identify employment opportunities
• Marketing yourself effectively
• Preparing for the job interview
• Career management skills
Participants who successfully complete the course will have the opportunity to be placed with a host organisation for a three-month internship to gain local work experience in your profession.
Timeline
Course: February-March 2017
Work Experience: March 2017 onwards
Quotes from clients:
"I love this training. We learned so much about job seeking skills – how to prepare a job application, how to do a job interview etc. The only thing is the training is not long enough! We want more!" – Tania
"Today was my first day at (company name) and it was quite challenging. The role matches to my previous experience. I want to contribute to the best of my abilities and gain experience. I'd like to thank you for this opportunity" – Shweta