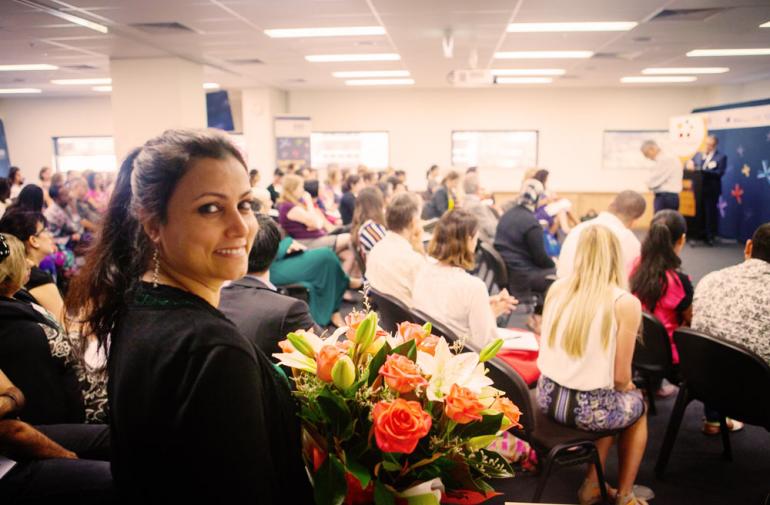 Syrian & Iraqi Refugee Forum
In response to the announcement by the Australian Government in September 2015 of 12,000 humanitarian places for Syrian and Iraqi refugees, Metro Assist strategically partnered with Settlement Services International to hold the successful full day forum. The forum, held in March, allowed 115 representatives from government, non-government and local services to learn about the background and settlement needs of refugees from Syria and Iraq, and to organize a collaborated, effective and integrated service response. 
The day began with Welcome to Country, followed by introductions from Mr Lou Bacchiella and Ms. Violet Roumeliotis, CEOs of Metro Assist and Settlement Services International respectively, highlighting the existing programs in place to assist refugees, and the importance of community engagement such as community kitchens, play groups, sporting activities and cultural programs and the importance of linking clients to relevant and appropriate community and mainstream activities with the view of enhancing social participation.
Our esteemed guest was Professor Peter Shergold, Chancellor of the University of Western Sydney, who highlighted the importance of women's participation at work in the successful settlement of refugees.
Syrian and Iraqi refugees gave presentations on their personal experiences on leaving their homes and arriving in Australia, giving first hand insight into the plight and struggle that these potential arrivals will face. 
Participants then contributed to a series of nine workshops on English language, short and long-term accommodation and housing, education, employment and training, health and mental health, parenting and family relations, youth, social engagement and inclusion; and finally immigration. In each workshop representatives discussed potential problems, strategic plans, and partnerships between service providers.
Attendees ate Syrian food, discussed and strategized, and the feedback was overwhelmingly positive. The workshops will be collated into a report for use as a planning tool for service providers to develop programs and partnerships to address the settlement needs of the newly arrived communities.