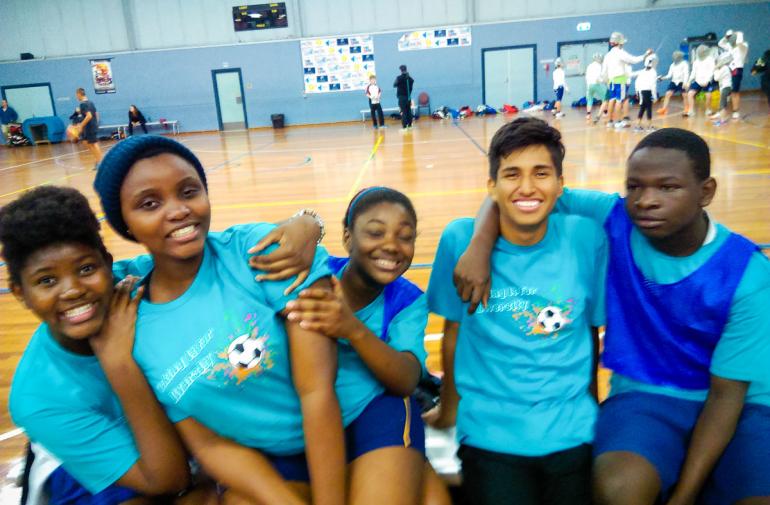 Refugee Week 2017
Settlement Services Youth & Family worker for Marrickville Litsa Nossar organised three events for Refugee Week 2017, in partnership with Marrickville Youth Resource Centre, Youth Off the Streets, Addison Road Community Centre, Inner West Council and as Co-convenor of Marrickville Multicultural Interagency.
The Kicking it for Diversity event brought together young people of mainly refugee and migrant backgrounds in celebrating Refugee Week through a soccer afternoon at Marrickville Police & Community Youth Club. Over 23 young people participated and enjoyed a non-competitive friendly games of soccer and basketball, followed by pizza and drinks.
Our second event was the Refugee Week celebration held at Addison Road Community Centre which was attended by over 500 people.
Highlighting the valuable contributions our refugee communities make, the Street Food markets and the mix of Somali and Senegalese musical performances were showcased on the night. A student of Marrickville High School and a member of Metro Assist's Special Tutorial Assistance Program in Marrickville, Amienata Kamara gave a speech about her experience as a refugee.
Our third event was the One Marrickville, Many Cultures in partnership with Marrickville Youth Resource Centre. Over 35 young people participated enjoying a variety of their own African music as well as mainstream music, BBQ and henna tattooing. The young people in completing their survey said that they felt valued, made new friends, felt welcomed and to be part of their community.