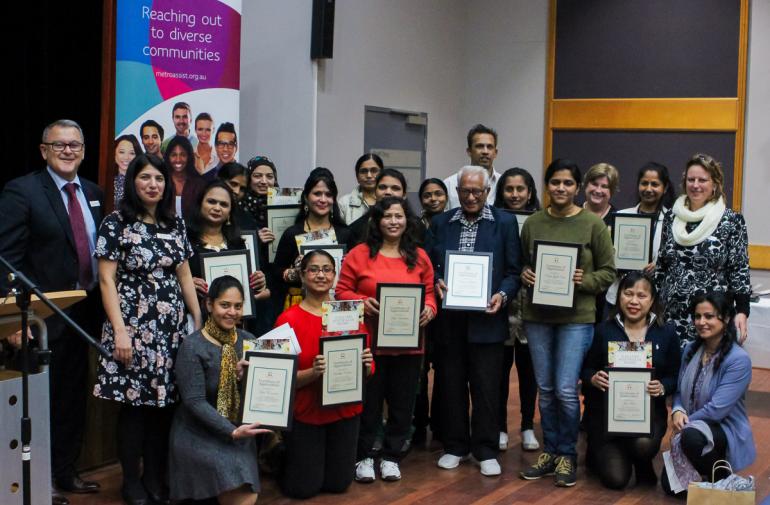 Book Launch Evening at Ashfield
Metro Assist was proud to invite over fifty guests from the local community to help launch two books compiled by Metro Assist Settlement Services, Taste of Harmony and Calling Australia Home.
The festive event was held next door to Metro Assist's Ashfield Office at the Ashfield Town Hall on Friday 7 July 2017.
Calling Australia Home is a book containing stories of newly arrived migrants encompassing their journey and experiences in Australia. Taste of Harmony is a cookbook of flavours from all around the world, written by women from culturally and linguistically diverse background.
Metro Assist Settlement Service Officers Dinaz Rather and Moushumi Martin, who compiled the books, got the proceedings started and welcomed Greg Wolford to acknowledge the traditional owners of the land and play the didgeridoo for the incoming guests.
Metro Assist CEO Lou Bacchiella told how food was an important part of the migrant story, relating his own childhood experiences being the son of Italian migrants. He then invited Mary Minns, Director of Settlement and Multicultural Affairs at NSW Department of Social Services, to say a few words and officially launch the two books. Ms Minns told how impressed she was with the individual stories, and noticed the common theme of simplicity and community in each one. She said these stories are a reminder that we must bolster communities to welcome new migrants and make their oftentimes stressful transition easier.
Sky de Jersey, representing Settlement Services International, was there to present the Certificates of Appreciation to the book's valued contributors. The books would not have been possible wihtout their personal stories and recipes.
Guests were treated to dance performances before enjoying light refreshments.