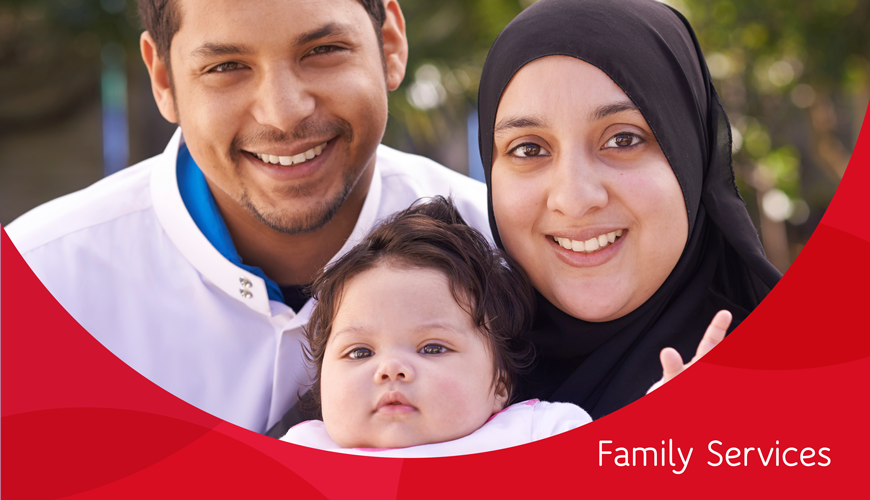 Supporting parents, children, grandparents, kinship carers and other carers to strengthen families.
Metro Assist provides a number of Early Intervention / Family Support Services that are family focused and child centred. We support the wellbeing of children by helping to build strong parenting skills and stronger families.
Our Inner West Family programs cover Ashfield, Burwood, Canada Bay, Leichhardt, Marrickville, Strathfield and Glebe. 
We support families with children from birth to 18 years of age from Aboriginal, and culturally and linguistically diverse communities with a focus on supporting families to to keep their children and young people healthy and safe.
Our programs support parents and carers to be confident and connected to their community, so they can support their children's developmental needs.

What do we do?
• Provide individual family support plans that offer information and advice
• Refer familes to specialist child/family services such as allied health, court support, housing, and employment
• Connect families to existing playgroups or parent support groups.
• Support children to make the transition to pre-school and kindergarten.
• Home visits to help isolated families make contact with services.
• Support families to participate in the community and provide opportunities to meet other parents/caregivers.
• Work with schools and community organisations in their local area to support families in need
• Provide parenting programs including: budgeting skills, Tuning into Kids/Teens, Triple P, Circle of Security. These programs are staffed by trained professionals.
 To refer a client please download and complete our Referral Form.
Self referral please contact the Family Team on: (02) 9798 1700
Psychological Support Service
A free service for children, adolescents and their parents living in the Inner West. 
Our psychologist specialises in working with people and communities from culturally and linguistically diverse backgrounds.
We can help with:
Adolescent support
Anger management
Anxiety
Child development
Depression
Domestic & family violence
Family & couples therapy
Grief & bereavement
Parent's support
Relationship issues
Stress
Trauma
To book an appointment or to make a referral, please call (02) 9789 3744 or email psych@metroassist.org.au.
Brighter Futures
Bankstown, Fairfield and parts of Liverpool Local Government Areas
Brighter Futures Program works with families expecting a baby or with children aged 0-8 years in suburbs within the Bankstown LGA and Fairfield LGA. We also support families within specific suburbs in the Liverpool LGA, these suburbs include Miller, Ashcroft, Sadleir, Heckenberg, Busby, and Warwick Farm. 
Our experienced family workers provide casework, home visits, structured parenting education, assist with access to childcare, and help connect families to local networks and services. Participation is entirely voluntary. Families can remain in the program for up to two years. 
Brighter Futures is geared to helping families experiencing:
• Domestic and family violence
• Problematic parental drug and alcohol use
• Mental health issues
• Parents with significant learning difficulties and/or intellectual disabilities
You may also be able to join the program if you're bringing up children without much support or if you're struggling to manage your children's behaviour. This program can provide you with support and services to help you give your children a good start in life and prevent some problems from getting worse.
How can I get involved?
There are several ways you can become involved in the program:
• Families can be referred to the Brighter Futures program as a result of a report made to the Child Protection Helpline (FaCS). With your permission, a Brighter Futures worker may contact you once we receive information from FaCS indicating the program may be able to help your family.
• Families can also self-refer to the Metro Assist Brighter Futures program, either in person at the Condell Park office, over the phone on (02) 9790 1766, or via email by completing the referral form. 
• External services can also refer families they believe may benefit from the Brighter Futures program, by also completing the referral form.  
Joining Brighter Futures is completely voluntary. Families can be part of the program for up to 18 months with a possible extension of 6 months, but they are free to decide how long they will be in the program and they can leave at any time.
If you have any further questions regarding eligibility of the program or service implemention, please email brighterfuturesadmin@metroassist.org.au.
Translated materials:
| | |
| --- | --- |
| English | |
| Arabic | |
| Chinese | |
| Dari | |
| Dinka | |
| Farsi | |
| Korean | |
| Samoan | |
| Somali | |
| Spanish | |
| Tamil | |
| Turkish | |
| Vietnamese | |