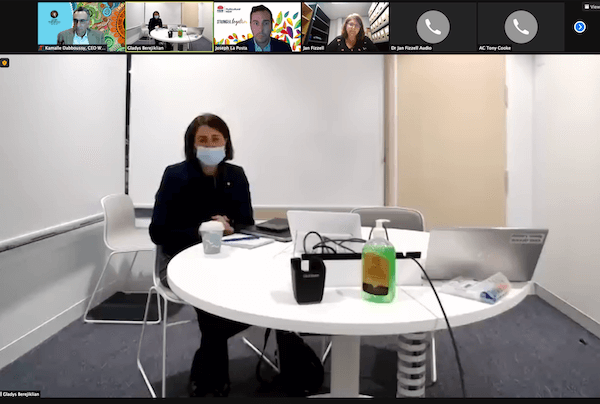 South-West Sydney Community Leaders stay informed and connected.

Media Release
Friday 9th July 2021
South-West Sydney Community Leaders stay informed and connected.
In keeping with our mission to empower, inform and connect the diverse communities in Liverpool and surrounding areas, Western Sydney MRC in partnership with CORE CS, Metro Assist and SSI organised the South-West Sydney COVID-19 Rapid Response targeted Community Leader meeting on July 8, 2021.
The COVID-19 community leaders meeting stemmed from similar meetings held in 2020 to engage multicultural community leaders on COVID 19 messaging and communication within multicultural communities. The initiative is a recognition of the important role that community and religious leaders play, as trusted and influential individuals that provide important COVID-19 messaging to their community.
A true participatory event, the meeting had representatives from various branches of the Government – NSW Health, Multicultural NSW, NSW Police, and MPs from local, state and federal governemnts; as well as representatives from over 250 community leaders representing the South West Sydney Community. These included representatives from local businesses, charities, religious groups and cultural community groups.
All were in attendance with the genuine intention to ensure the local community can navigate the current surge of the virus, support the messaging around the public health orders and assist the community to meet Government expectations under the lockdown.
In the opening address CEO of Western Sydney MRC Kamalle Dabboussy said 'COVID-19 does not see ethnicity, language, religion or politics, and that we want informed communities, with understanding and cooperation, hence this forum.
Key areas of discussion in the meeting were anchored in the questions raised by the local community responses surrounding the virus itself, livelihoods, care responsibilities, mental health and policing. Dr. Jan Fizzell from NSW Health highlighted the quick and contagious nature of the COVID-19 Delta variant infecting whole households.
Key messaging there was to ensure that people leave their homes only for essential reasons. This messaging was met positively by the participants who wanted to know how and what information they can take back to their families, friends and larger community groups.
Specifically, messages around staying home and not visiting other households, wearing masks, understanding vaccines, accessing vaccination sites, partnering with multicultural doctors, video messaging from leaders in various languages and creating more Facebook live content.
This meeting provided a powerful platform for the South-West Sydney community to directly raise their voice and self-advocate for issues concerning their every life in a safe and trusted environment.
The policing deployment was an issue raised by community members and addressed by Assistant Commissioner Tony Cooke. NSW Police reiterating that the bulk of the police deployed are from the South-West Region are trained in engaging with multicultural communities and are part of ongoing Police support and enforcement to ensure our communities remain safe. Assurances were given by the premier that the response in South West Sydney in terms of policing was the same response made across all areas of concern during each outbreak.
The Premier was supportive of the issues being raised by the community and reiterated that her government's goal is to ensure the messaging to diverse groups community is effective, results in changes to behaviour and that these communities are supported to understand the issues, be supported to get answers and assisted to their part in beating the virus.
It was a positive meeting, with many participants expressing their gratitude to the organisers. CEO of Metro Assist Michael Szafraniec outlined 'that the community of South West Sydney is very well connected and well served by organisations such as Western Sydney MRC and CORE Community Services, and the leaders of this community will always act to support the community, for the benefit of the community. This meeting just demonstrates further that the whole South West Sydney community is getting behind the Premier and her government to join together to beat this virus.'
For more information on Western Sydney MRC or CORE Community Services  or Metro Assist please visit wsmrc.org.au or corecs.org.au and metroassist.org.au.
Media enquiries can be directed to:
Marketing and Communications Manager
Rachel Haywood
Contact 0456 222 080
Email: rachel@wsmrc.org.au
CEO Metro Assist
Michael Szafraniec
Contact: 0400 093 824
Email: ceo@metroassist.org.au